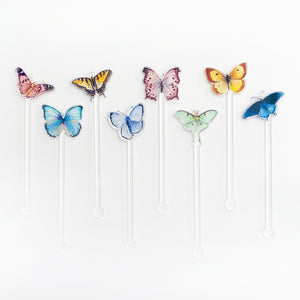 Perfect for coffee, parties or impromptu celebrations, these swizzle sticks add fun to any drink. And they're reusable!
Mix and match to keep up with whose drink is whose or simply use them as an adorable drink accessory for festive flair. So great for gifting too!
Set includes:  Set includes 8 unique butterfly stir sticks
Spring Azure Butterfly
Blue Morpho Butterfly
Luna Moth
Orange Sulphur Butterfly
Mother of Pearl Butterfly
Painted Lady Butterfly
Pipevine Swallowtail
Tiger Swallowtail
Don't throw away! These fancy stir sticks are reusable, and make beautiful gifts!
Each stir stick is 6" tall Safe for hot or cold drinks
Set of 8
CARE Hand wash only Do not use in beverages that exceed 195 degrees
Made in United States of America