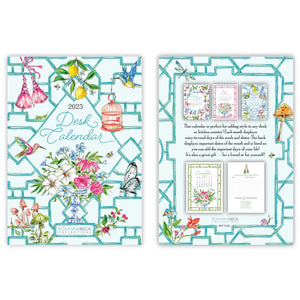 Featuring patterns and motifs from Rosanne's whimsical Wonderland collection, uniquely designed for each month of the year.

Calendar includes 12 cardstock cards for January 2023-December 2023. 5x7" in size. Calendars come packaged in a white gift box with a paper band wrapping around the packaging showcasing a glimpse at the artwork.
Wonderland artwork and dates on the front.

Important dates & notes on the back.
Includes a cardstock cover to keep your cards assembled until its their month to shine and an acrylic stand.